If there's one thing you can count on, it's that some type of floral pattern will always be in style. And they're even more prevalent in spring – especially this year. "We can hear Miranda Priestley's dripping sarcasm now: Florals? For spring? Groundbreaking," mused Country Living.
But today's floral trends are a far cry from your grandmother's busy, tightly patterned situation. Instead, it's all about big and bold, and the trend is hitting hard for those who want to make a statement on one wall, or more.
This Ellie Cashman Design "dramatic, large-scale floral wallpaper is inspired by the still life paintings of the Dutch Golden Age," they said. "Majestic, ethereal blooms cascade down a dark, shadowy background." The wallpaper appears as part of Elle Décor's April Edit: Large-Print Florals (Their edit also includes dinnerware, placemats, and pillows, along with several fashion pieces.). "The April Edit is devoted to all petals, pistils, and stems," they said. "A fresh bouquet, literal or figurative, marks the start of spring like no other. But beyond adding a fresh spray wherever counter space allows, plant a seed in your wardrobe and on your wall, too."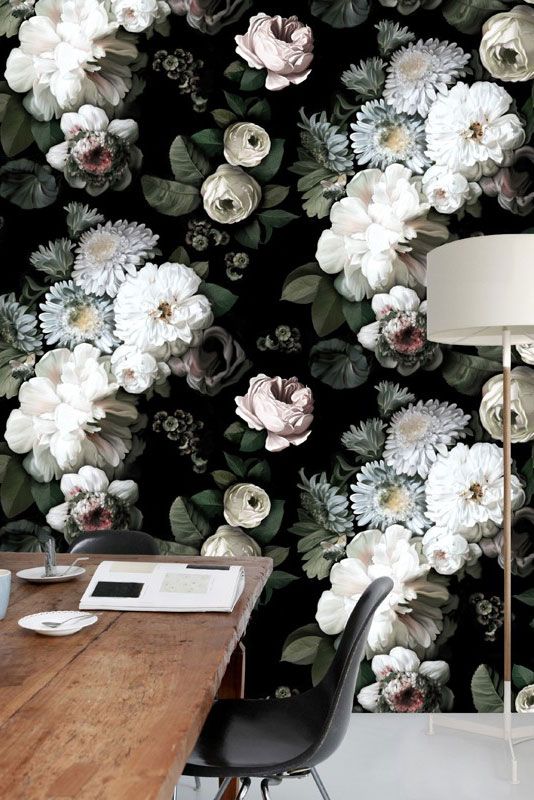 Elle Decor
It's just one of the large-print florals that are breaking the light and airy mold this season. Expect to see lots of these dark, dramatic looks, many with black backgrounds and others that continue with the jewel tone theme we've been seeing in fashionable interiors.
This black-backed print helps an entry come to life.

houselust
You don't need a flat wall to create a statement wall – and your large floral print doesn't have to be the only print in the space, etiher.

mydomaine.com
Think you can't go bold in a small space? Think again!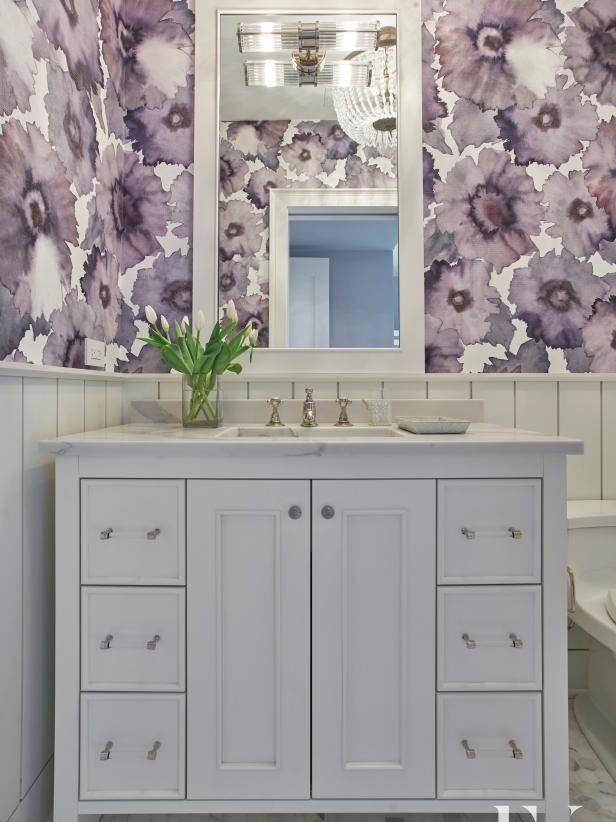 hgtv.com – Mike Schwartz
Maybe it's the fifth wall you have your eye on.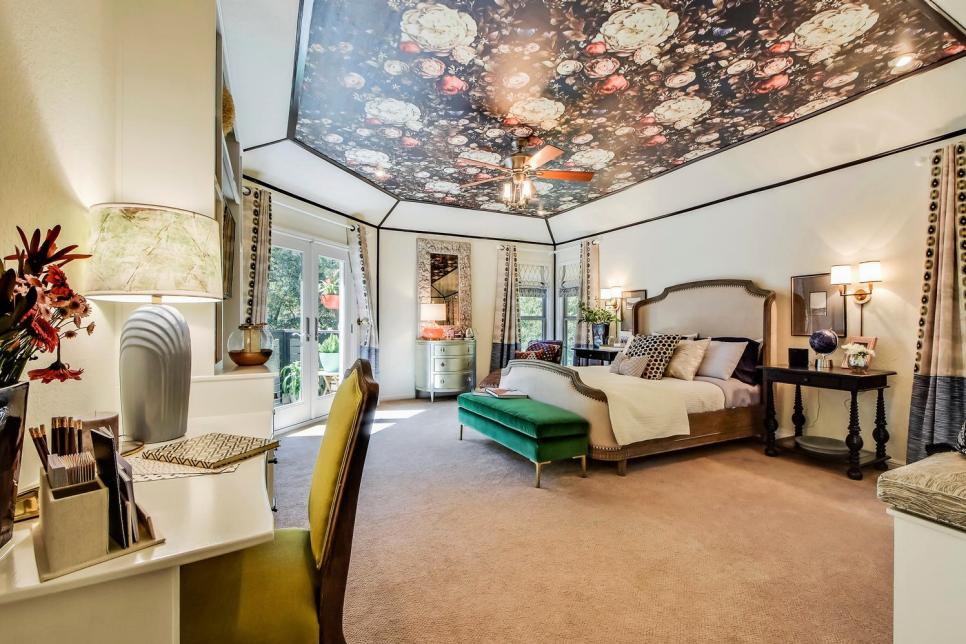 hgtv.com – Twist Tours
"Floral prints are always 'in' if you ask Anthropologie," said Country Living. "Rather than a traditionally feminine look in 2018 they feel especially fresh and more interesting styled in a casual bohemian way. Juxtaposing florals with organic textures and neutral palettes evokes a new kind of elegance that is appealing."
We also love that you can incorporate this trend into your home even if you don't want to make such a semi-permanent commitment. There are numerous peel-and-stick options that will give you the look in an easily removable material, like this one from Etsy.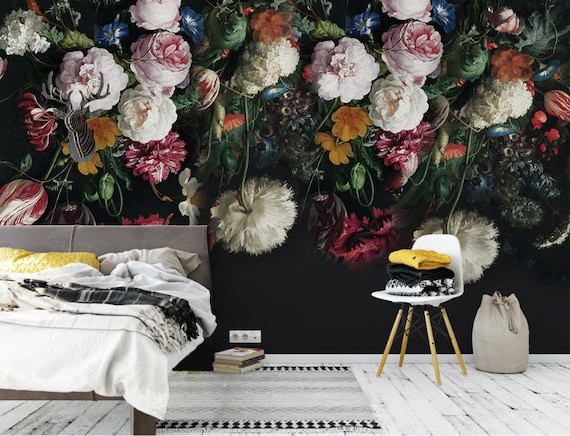 etsy.com
Or this fun and unique pattern from Walls Need Love that adds peacocks to the mix.

wallsneedlove.com
If the thought of covering a wall in something so bold is still too much, even in a removable application, think about smaller bursts of flower power, like these drapes.

theeverygirl.com – SF Girl By Bay
Or some show-stopping recovered dining chairs.

pinterest.com